Createx Studio Debuts on Clutch's Platform with Perfect Rating Review
We all know how important it is to have a website in today's day and age. If you are a business owner or a CEO of a company, then you should be able to understand why a website is crucial in terms of building your online presence. Today, there are millions of websites out there! Making yours stand out is a tough job, but thankfully, there are companies like Createx Studio that can help you create the best site for your business.
Createx Studio is a team of digital design and development professionals whose main aim is to create quality websites, tools, and applications that offer a beautiful web presence and ultimate user experience. We want to create a site that can truly encapsulate your vision and mission. The goal is an output that represents your business and not just another cookie-cutter design.
We are proud of our team and what it is able to achieve ever since we started. From creating amazing websites and from forging relationships with our clients, our team has truly come a long way. Today, we are very excited to announce a new milestone in our company's history. Without further ado, our team is very proud to announce that we've recently received our first ever Clutch review!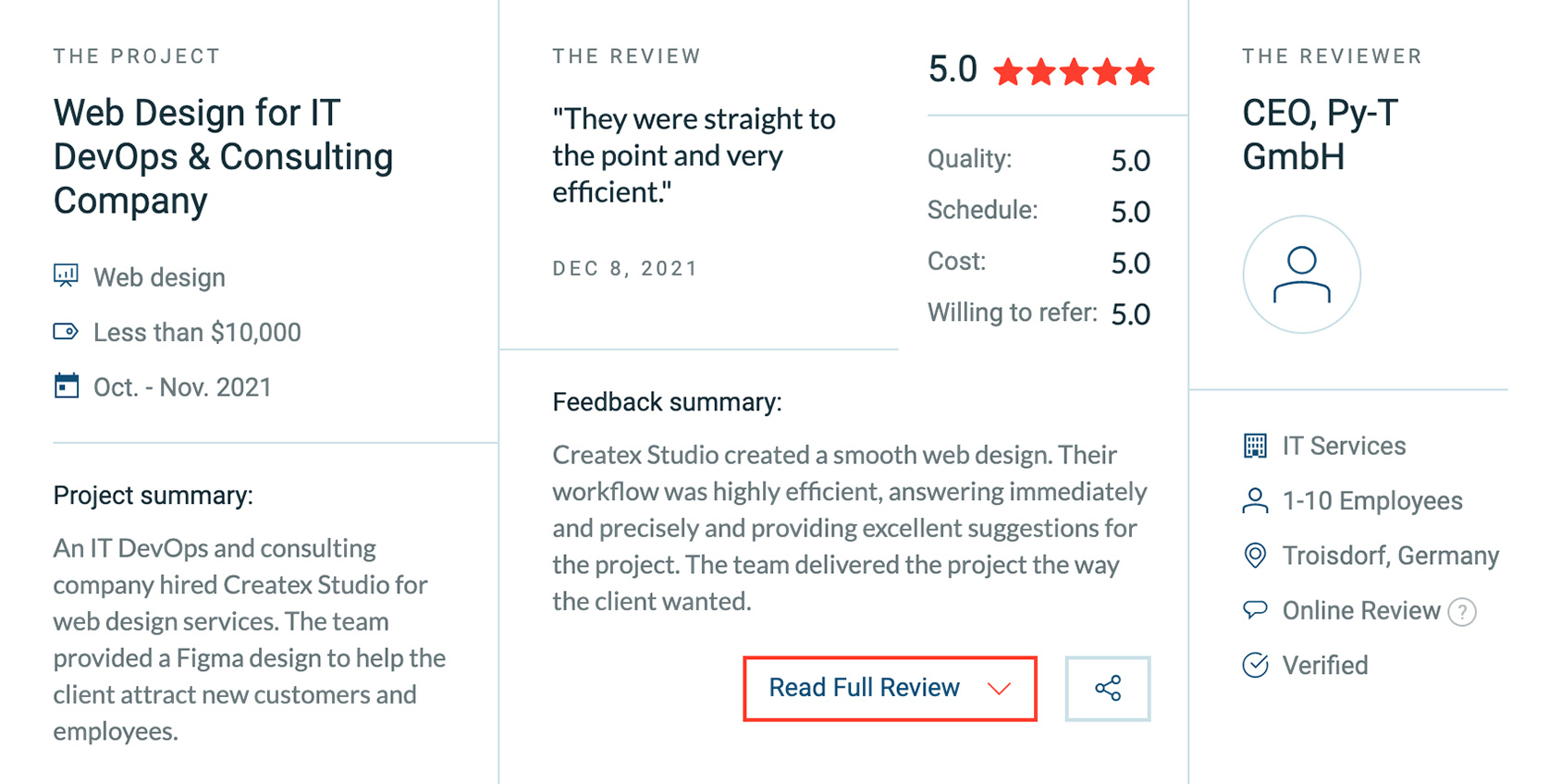 For those that don't know, Clutch is a B2B ratings and reviews platform based in Washington, DC. They evaluate technology service and solutions companies based on the quality of work, thought leadership, and client reviews.
Our first ever review was from an IT DevOps and Consulting Company named Py-T GmbH. We helped them in designing their homepage as it has been made a couple of years ago already and is considered outdated in today's standard. Our collaboration started with a short meeting to discuss the details of the project. After that, our team immediately created the Figma design. After a few iterations, we finally reached our final design.
Here is what the CEO of Py-T GmbH has to say about our collaboration:
"The workflow was very efficient, Oksana answered very quickly and precisely and also made some very good suggestions that we would not have figured out on our own."
Furthermore, they also mentioned how much they appreciated our straightforward attitude and efficiency. These traits translated into a clean design that the client was very satisfied with.
You can also catch us on Top Design Firms' website! They are a company portfolio site that compiles and organizes companies offering marketing, design, and development services. It aims to help buyers find the right company for their project.
Are you interested in working with us and want to get to know us better? We believe everything starts with a good conversation. Give our office a call today!
Clients we are happy to work with
And here is what they say about our work
Could not have asked for a better experience. Highly creative and efficient studio with a meticulous attention to detail. We'll work together again soon 👊

Sean Park-Ross (South Africa)
Createx Studio had completed several projects for us successfully and above our expectations. Each time they are able to dissect our needs, work with us to develop the best solution, and execute it in a timely fashion. I trust them to deliver quality work ahead of deadlines. They will continue to be my first choice for any web development and design project I have in the future.

Jonathan Gardner (Atlanta, USA)
We are extremely pleased with the results and efforts from the Createx Studio team! We've received many compliments on the front end design they where able to put together for us. We are still in the beginning stages of our start up, but can already project a successful endeavor. The team at Createx Studio where super patient with our team, and fully understood what it was that we where looking for, they not only nailed the project, but delivered it in a timely manner.

Aleks Heit (Phoenix, USA)
Was great working with Roman and members of his team. They were very helpful and took the time to answer any questions I had about the work. Completed the initial project that I was very happy with and continued working on some additional features, all done to my specifications. Very pleased with the end result.

Daniel Simpson (Manchester, UK)
I've had the pleasure of working with Createx Studio on a number of projects. They are very professional, experts in the field and have a keen eye for detail. I would recommend them!

Adam J Hook (London, UK)
Working with Createx was an absolute pleasure. Turn around time was quick and communication was instantaneous and uncomplicated. They quickly grasped our design needs and applied necessary changes swiftly. The team went above and beyond to make sure all of our requirements were met and made it very easy to request changes and additions. We will definitely work with them again!

Jacob Lyamu (Tokyo, Japan)
Fantastic service as always. Cannot recommend highly enough. Work completed on time and within budget. Thank you :-)

Paul Fry (London, UK)
Createx Studio was the highest level of quality I could have received. I am an experienced Product Manager and 10/10 I recommend them for any front-end and design services, I will not hesitate to use them again!

Adam Boujida (Singapore)
Working with Createx Studio to redesign our site UX was a pleasure. They took the time to understand the messaging, key communication points and value preposition behind our product and proceeded to concept out according visuals. They worked with us on changes/further adaptations, and last minute adjustments as well. Happy to recommend them.

Michael Malinsky (London, UK)
Could not have asked for a better experience. Highly creative and efficient studio with a meticulous attention to detail. We'll work together again soon 👊

Sean Park-Ross (South Africa)
Createx Studio had completed several projects for us successfully and above our expectations. Each time they are able to dissect our needs, work with us to develop the best solution, and execute it in a timely fashion. I trust them to deliver quality work ahead of deadlines. They will continue to be my first choice for any web development and design project I have in the future.

Jonathan Gardner (Atlanta, USA)
We are extremely pleased with the results and efforts from the Createx Studio team! We've received many compliments on the front end design they where able to put together for us. We are still in the beginning stages of our start up, but can already project a successful endeavor. The team at Createx Studio where super patient with our team, and fully understood what it was that we where looking for, they not only nailed the project, but delivered it in a timely manner.

Aleks Heit (Phoenix, USA)
Was great working with Roman and members of his team. They were very helpful and took the time to answer any questions I had about the work. Completed the initial project that I was very happy with and continued working on some additional features, all done to my specifications. Very pleased with the end result.

Daniel Simpson (Manchester, UK)